The POLYCHROM Festival presents the dazzling diversity of the current German jazz scene
Colorful, more colorful, polychrome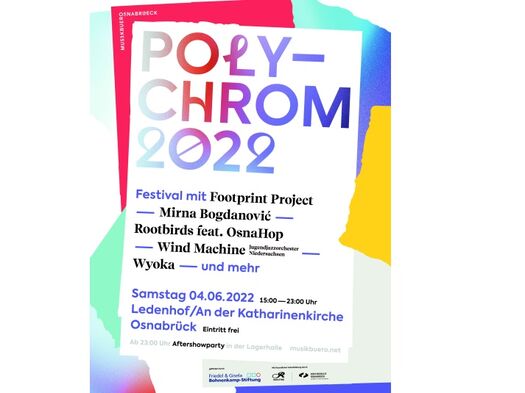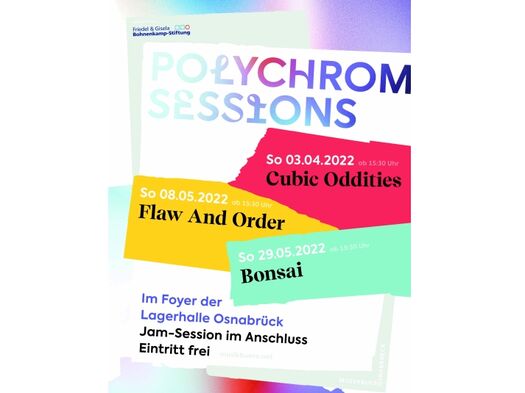 The POLYCHROM Festivalpresents the colorful diversity of the current German jazz scene. Eight young, exciting and up-and-coming bands from Osnabrück and all over Germany will play at POLYCHROM on June 4, 2022, from 3 p.m. to 11 p.m. in downtown Osnabrück. On two stages - at the Ledenhof and at the Katharinenkirche - the POLYCHROM celebrates the multifaceted jazz scene: there will be Lindy Hop and Latin, Swing, Neo Soul and Electro-Jazz. POLYCHROM invites you to stroll and listen, to dance as well as to drink red wine. From 11 p.m. DJane Steffi will be spinning at the after-show party in the Lagerhalle.
Jazz student Luka Kleine and the Musikbüro Osnabrück e.V. are organizing POLYCHROM for the second time. The POLYCHROM is sponsored by the Friedel & Gisela Bohnenkamp Foundation. Admission is free.
First she studied jazz singing in Osnabrück - now she lives as a professional musician in Berlin. With her expressive voice, singer Melanie Ring inspires her audience and transforms her lyrical texts into dreamy, floating and then again suspenseful melodies - on June 4, she returns to Osnabrück with her new project " Wyoka " for the Polychrom Festival. Just as Ring did back then, many music students in Osnabrück harbor the desire to be part of the jazz scene outside of Osnabrück and to link the jazz scenes together. By organizing the Polychrom Festival, jazz student Luka Kleine and former jazz student Anna Suzuki put this wish into practice. Kleine initiated the festival, Suzuki meanwhile works at Musikbüro Osnabrück e.V. - now they are organizing the Polychrom Festival for the second time. "There are so many great jazz projects in Osnabrück - we want to make them visible to the public," says Kleine, "and the connection between the Cologne, Berlin and Osnabrück jazz scenes is the fuel for the Polychrom," he continues. To strengthen this network, they are organizing not only a festival day this year, but also three sessions in advance, which will take place in the Lagerhalle. On April 3, May 8 and May 29, 2022, newcomers and well-known names in the jazz scene will meet here to make music together. "Jam sessions are the heart of jazz," says Dominique Rosenbohm, who studies jazz vocals at the Institute of Music, "this is where new music is created through interaction - it's magic."
Also new this year is that the festival will take place on two stages in the middle of the city: At the Ledenhof and at the Katharinenkirche. "It's great that we're playing so centrally this time," says Suzuki, "it allows us to reach people who don't normally listen to jazz at all and just walk past our stages while shopping." The after-show party will also take place in the middle of Osnabrück at the Lagerhalle, starting at 11 p.m.
Well-known greats of German jazz such as Mirna Bogdanovicfrom Berlin - who has just received the German Jazz Prize for her debut album - Leon Maria Plecity - who studied jazz guitar in Osnabrück and comes from Cologne with his new project - and Rokhaya Niang with "Footprint Project" from Berlin will be playing alongside newcomers such as "Wyoka" mentioned at the beginning and "Trio Delgado". "This year the music is extremely danceable," says Suzuki "there's Lindy Hop and Swing, modern jazz as well as pop and electronic jazz projects."
The Friedel & Gisela Bohnenkamp Foundation, which sponsors Polychrom 2022, encouraged the festival to be large and centralized: "From the beginning, the foundation saw great potential in our festival and supported us conceptually," says Kleine. So far, the foundation has supported baroque music with the Neue Hofkapelle Osnabrück, among others. "Modern music styles have been appealing to us for a long time, and we are incredibly happy about our collaboration with the Polychrom," says Michael Prior, spokesman for the board of the Friedel & Gisela Bohnenkamp Foundation. On June 4, we will be able to see and above all - hear the result of this collaboration.
POLYCHROM Festival: Stage at Ledenhof and Katharinenkirche, Saturday, June 4, 2022, from 3 pm. From 11 pm after-show party with DJane Steffi in the Lagerhalle. Admission is free.
Program POLYCHROM Sessions
POLYCHROM Session on Sunday, April 3, 2022
The first session will be held on Sunday, April 03, 2022, in the warehouse hall and will start from 15:30. The modern jazz formation Cubic Oddities will open the first session. The compositions of the six young musicians combine groovy basslines with collective improvisation, elegant harmonies with extraordinary instrumentation and odd bars with catchy melodies. As different as the facets of Cubic Oddities' music are, they unite to form a whole - like the six sides of a cube.
Jakob Löbert - drums, flute
Ron Fabian - piano
Anton Hübner - bass
Maximilian "Luwak" Kühnel - vibraphone
Santiago Giesler Garcia - wind instrument
Joscha ter Wey - wind instrument
POLYCHROM Session on Sunday, May 8, 2022
The second POLYCHROM Session will take place on Sunday, May 08, 2022, at the Lagerhalle, starting at 3:30 pm. The session will be opened by the Osnabrück jazz quartet "Flaw And Order". As the name suggests, their music is dedicated to the ambivalence of chaos and order. Fixed structures are deliberately disturbed and a new regularity emerges from a hullabaloo of sounds. In doing so, the four musicians constantly sound out different sound worlds, sometimes sounding detached, free and floating, then again solid, clear and catchy. Their musical curiosity is expressed mainly in original compositions, but also in modern interpretations of songs and standards. The music that results is mostly in the realm of modern jazz.
Wiebke Schröder - piano
Mattis Balks - alto/soprano saxophone
Minh Voong - double/e-bass
Sebastian Metken - drums
POLYCHROM Session on Sunday, May 29, 2022
The last jam session will take place on Sunday, May 29, 2022, at the Lagerhalle, starting at 3:30 pm. The trio Bonsai will open the session. With wit and a lot of imagination bass clarinet, trombone and drums grow together. Bonsai sometimes turns into a sensitive, tender little plant, sometimes the band rages like the whipping willow. In fertile soil, melancholy melodies and wild improvisations blossom from driving rhythms and shimmering harmonies.
Svenja Burmester - trombone
Justus Czaske - bass clarinet, alto saxophone
Luka Kleine - drums, glockenspiel
Program POLYCHROM Festival 2022
Rootbirds feat. Osnahop Am Ledenhof 3 p.m.
The "Rootbirds" revive the jazz of the 1920s and 30s. Their own arrangements - influenced by the style of Chicago Jazz up to the Swing era - present vintage jazz in a fresh look. In keeping with the music, the dance floor is rolled out: the exuberant Lindy Hop dancing brings the Swing Era back to life. Together with Osnahop we invite you to social dancing!
Jens Buschenlange - horn, trumpet Sebastian Schulte - trombone Jan Bostelmann - tenor and soprano saxophone Jan-Paul Herbst - alto and baritone saxophone, clarinet Torsten Stuckenholz - guitar Tilmann Geske - bass Lukas Winter - drums
Svenja meets the Trio At Katharinenkirche 4 p.m.
Trombonist Svenja Burmester meets the "Trio Delagdo". Together, they explore the different facets of traditional jazz and span a bow to the present day to explore the current ways of jazz.
Svenja Burmester - trombone Enrique Delgado Maguiña - piano Daniel Schlipf - double bass Julian Söth - drums
Wind Machine Am Ledenhof 5 p.m.
The youth jazz orchestra of Lower Saxony "Wind Machine" gathers the best young jazz artists of the country. With modern arrangements they explore the diverse traditions of jazz. The trademark of the jazz orchestra is the acoustic and caring sound, which brings the band close to symphonic sound worlds.
Saxophone: Jannik Boos, Silas Burg, Janna Friedrich, Noah Hempen, Artem Kasterin, Leon Ohlef, Antonia Osburg, Mats Schulte, Leonora Tomanoski Trumpet: Ludwig Bertram, Phillip Heise, Philipp Passiel, Carsten Pille, Simon Plümer, Michael Schuh, Jan-Hendrik Sommer Trombone: Thorven Dagobert Bahr, Frederik de Vries, Florian Groß, Matthias Löwen, Aaron Ohlef, Linus Plümer, Bela Jakob Tschochner Guitar: Konrad Bertram, Konrad David Schwedhelm Piano: Jasper Brunsch, Malte Klingenberg, David Urban Bass: Leo Kilper, Lena Lorberg Drums/Percussion: Johannes Kalt, Tim Lennartz Vibraphone: Johannes Claassen, Simon Gums Vocals: Mita Hiemer, Lennart Meyer, Hannah Siekiera, Calvin Christopher Zarnack
Conductor: Ulrich Plettendorff
Leon Plecity's Extraordinary Machine At St. Catherine 's Church 6 p.m.
The new sextet around composer and guitarist Leon Plecity presents its unusual instrumentation at the POLYCHROM Festival: Without piano but instead equipped with three melody instruments, they explore new sonic spaces of modern jazz with original compositions.
AnnaMina Schneider - voice Johanna Klein - saxophone Marie Tjong-Ayong - trumpet Leon Maria Plecity - guitars Ursula Wienken - bass Jakob Görris - drums
Mirna Bogdanovic At the Ledenhof 7 pm
The debut album "Confrontation" by singer and composer Mirna Bogdanovic received the German Jazz Award in 2021. Her original compositions reflect elements and structures of jazz, pop and classical music, creating kaleidoscopic patterns that are unpredictable.
Mirna Bogdanovic - voice, EFX, ukulele Peter Meyer - guitar Povel Widestrand - piano, synth Felix Henkelhausen - bass Philip Dornbusch - drums
Wyoka At the Katharinenkirche 8 p.m.
"Wyoka" is a new pop-jazz project from Osnabrück. Singer Melanie Ring's lyrical lyrics transform into dreamy, soaring, and then suspenseful melodies that flow into a poppy, experimental soundscape. The band loves hip hop, neo-soul and jazz, and that's exactly what you* hear.
Melanie Ring - voice Felix Seefluth - drums Nils Bölting - guitar Aron Weise - bass Leon Richenhagen - piano
Footprint Project Am Ledenhof 9 p.m.
"Footprint Project" is a ten-piece brass'n'beats combo from Berlin. The band mixes elements of jazz with pop, raggae and progressive rock. Here soulful vocal melodies run into full brasslines and spherical sound fields meet driving beats.
Rokhaya Niang - voice Anton Kowalski - saxophone Aron Hentschel - drums, voice Elias Lindermann - bass Lenny Hanselmann - guitar Jonathan Steffen - trombone Max Feig - guitar Max Gogolin - trumpet Nils Brzoska - beatbox Moses Yoofee Vester - piano