Mourning for Gisela Bohnenkamp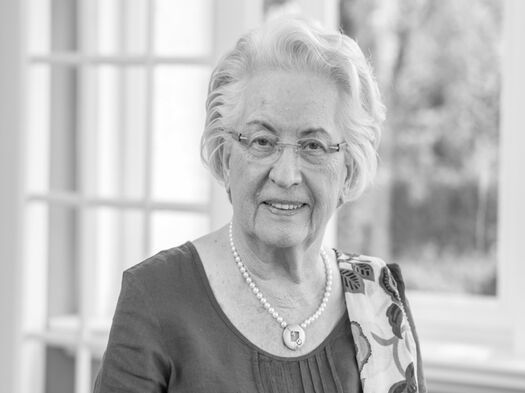 On July 27, 2019, after a long and serious illness, Mrs. Gisela Bohnenkamp passed away at the age of 83.
The wife of company founder Friedel Bohnenkamp took over the management of the Bohnenkamp company in Osnabrück after the death of her husband and was a member of the board of directors as well as sole shareholder of the company until 2008. In 2008, she transferred part of her shareholding to the non-profit Friedel & Gisela Bohnenkamp Foundation and joined the company's supervisory board.
Until the end, she was actively involved in the decisions of the company and the foundation. With foresight, Gisela Bohnenkamp shaped Bohnenkamp AG and the Bohnenkamp Foundation and paved the way for their successful development. Her extraordinary commitment in many areas was honored in a special way by the award of the Cross of Merit 1st Class of the Order of Merit of Lower Saxony as well as the Justus Möser Medal of the City of Osnabrück.
For Gisela Bohnenkamp, the employees and the independent continuation of the company were always at the center of all considerations. As an entrepreneur and benefactor, she often unfolded her impact quietly and did not like to be the center of attention. For her, education and culture were the foundation of a successful life, which she promoted not only through her foundation. She was helped in this by the courage she always had to implement unusual ideas that she was convinced would have an impact. She was a good listener to her interlocutors and was able to win people over for herself and her ideas with her devotion and her very own sense of humor. Her commitment has left many traces in the Osnabrück region that will remain visible for a long time to come and will be followed up not least by the Bohnenkamp Foundation.
The board of directors, supervisory board and board of trustees as well as all employees in the company and the foundation express their respect for Gisela Bohnenkamp by continuing her life's work in her spirit. Both her down-to-earth attitude and determination as well as her enthusiasm and curiosity for new things have always distinguished Gisela Bohnenkamp. We will miss her.