Order of Merit for Gisela Bohnenkamp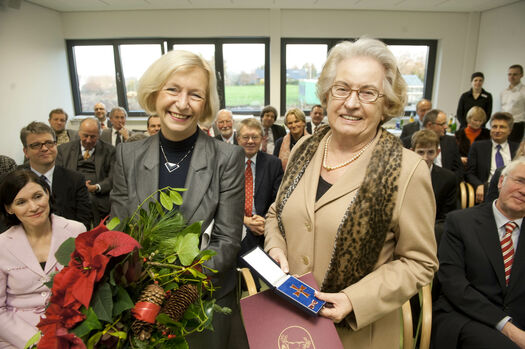 The founder of the Friedel & Gisela Bohnenkamp Foundation in Osnabrück, Gisela Bohnenkamp, was awarded the Cross of Merit 1st Class of the Order of Merit of Lower Saxony on December 2, 2011 for her extraordinary commitment to promoting the education of young people. Science Minister Professor Dr. Johanna Wanka presented the prestigious award, presented by Lower Saxony's Minister President, at the Bohnenkamp House in the Botanical Garden.
"People have always been at the center of your decisions: This was true for your employees, to whom you have given secure jobs, and this is especially true today for children and young people from the Osnabrück region, to whose education you are committed in many ways. With a great deal of dedication and creativity, you have shown how much a successful entrepreneur and philanthropist can achieve in a region," said Wanka. Gisela Bohnenkamp, who comes from Wesel on the Lower Rhine, was married to the entrepreneur Friedel Bohnenkamp. After his death in 1990, she took over the management of the company and is now a member of the supervisory board of Bohnenkamp AG. The company is a major specialist supplier of tires, wheels and vehicle components for use in the agricultural and transport industries. The company's trainee quota is around 12 percent. Gisela Bohnenkamp has already received the honorary award of the Osnabrück Economic Development Association for her services.
Gisela Bohnenkamp established the Friedel & Gisela Bohnenkamp Foundation in 2008. To this end, she transferred almost half of her company shares to this foundation. The motto of the foundation is "Promoting education - taking everyone along". The main aim is to strengthen children and young people in their development. In the past two years, the foundation has initiated exemplary projects and supported initiatives with around 1.5 million euros. For example, it provided significant support for the construction of the Biological Information and Transfer Center at the University of Osnabrück. The "Bewegte Sprache - Language through Movement" project and the Institute for Early Childhood Education have also benefited. Important scientific congresses and the "Lower Saxony Professorship" at the University of Osnabrück have also been financed by the Foundation.
Gisela Bohnenkamp thanked the minister for the high honor and said, "I would also like to thank everyone who has supported me with advice and support. There have always been people in my life who were simply there and whom I could trust." Establishing the foundation was one of the highlights of her work, Gisela Bohnenkamp explained, adding, "I definitely believe that solid medium-sized companies are the backbone of the economy and society, but that there are also obligations to do something for society."