Premature baby simulator Paul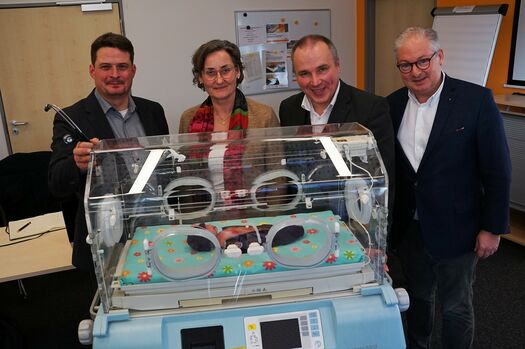 Osnabrück, January 2023
A new premature baby simulator has been unveiled at the Christian Children's Hospital Osnabrück (CKO). Acquisition and maintenance are supported by the Friedel & Gisela Bohnenkamp Foundation with 64,000 euros. It is the first simulator of its kind in northern Germany, said chief physician Dr. Florian Urlichs at the presentation. He therefore sees a responsibility to train colleagues involved in premature infant care in the northern German region. The training is to take place in a resuscitation center for premature infants, which is currently being established.
Premature infants weighing less than 1250 grams are a major challenge, even for experienced medical teams, because they are not common and require special treatment. Especially in the case of sudden complications, all actions must be precisely coordinated, and vital decisions must be made within a few seconds.
This is to be trained regularly in a lifelike manner with the new premature baby simulator. The manikin is called Paul, is 35 centimeters tall and weighs 1,000 grams. It thus corresponds to a premature baby of the 27th week of pregnancy, i.e. born more than three months too early. All relevant interventions can be practiced on the manikin by the medical and nursing team, and various scenarios can be depicted using the built-in technology. Paul reacts to the administration of medication as well as to resuscitation measures. At the end, the nursing staff receives a statement on how successful the measures were.
"This training effect enables us to ensure that our smallest patients receive the best possible care," Dr. Urlichs is pleased to say.
Michael Prior (spokesman for the Friedel & Gisela Bohnenkamp Foundation) emphasizes, "The Foundation is very happy to support this high-end technology product, which saves lives. It also adds to the attractiveness of the professions involved in the care sector. It fits in with the foundation's current funding focus on vocational training.